Floods in Nigeria, June to September 2022
by Richard Davies, floodlist
Heavy rain, rising rivers and dam releases worsened an already dire flood situation in Nigeria during September 2022
In a period from June to late August 2022, flooding had already affected populations in several states including Lagos, Anambra, Federal Capital Territory, Borno, Ebonyi, River State, Bauchi and Benue. The worst of the flooding during this period occurred in Yobe State in July (link: https://floodlist.com/africa/nigeria-floods-june-july-2022 ) and in Jigawa State in August ( link: https://floodlist.com/africa/nigeria-jigawa-floods-update-august-2022 ) where at least 50 people died. In late August severe flooding in Adamawa State caused 10 fatalities (link: https://floodlist.com/africa/nigeria-floods-adamawa-august-2022 ).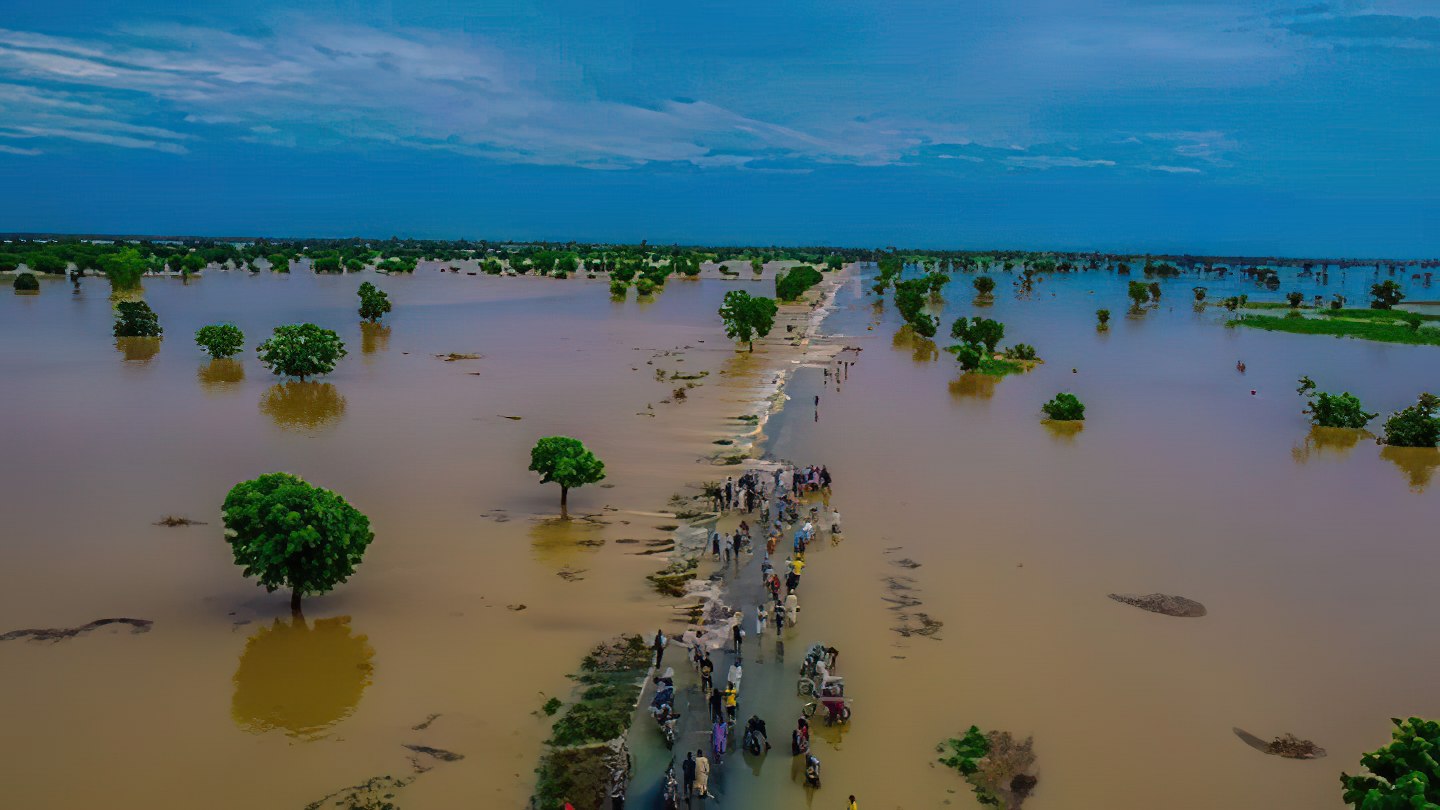 GLOFAS Image 1 Floods in Jigawa State, Nigeria 2022 Disaster Management Initiative
In an emergency technical meeting on the flood situation in Nigeria on 19 September 2022, the Director General of NEMA, Mustapha Ahmed, said flooding had affected 29 states including the Federal Capital Territory of Abuja since February.
He added that more than 300 people had died, 500 were injured and over 500,000 people affected. More than 100,000 were displaced and moved to temporary shelters including schools and other public buildings or with host families. The director warned that further heavy rain, swollen rivers and dam releases meant the flood situation was likely to worsen, in particular along the Niger and Benue rivers.
On 20 September 2022 NEMA reported the release of water from Kiri and Lagdo dams resulted in flooding in communities close to river banks in Benue, Taraba and Adamawa States.
Images provided by Disasters Charter showed ( link: https://disasterscharter.org/web/guest/activations/-/article/flood-large-in-nigeria-activation-777- ) flooding from the swollen Benue River in areas of Benue State including the capital Makurdi, and along the Mada River in Nasarawa State.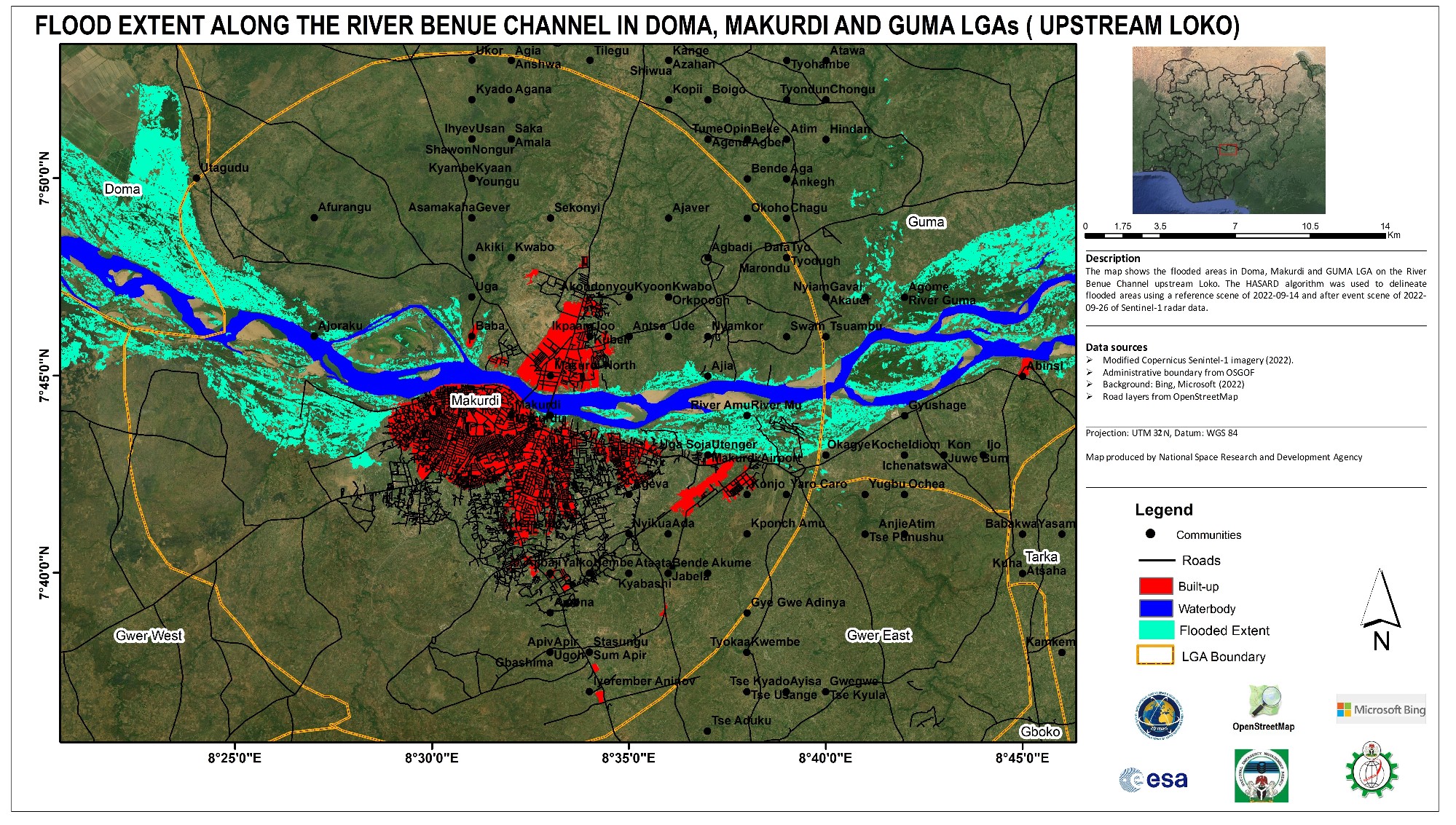 GLOFAS Image 2: Flood extent along the river Benue in Doma, Makurdi and GUMA (Upstream Loko)
Source: Sentinel-1; Acquired: 25 to 26 September 2022
Contains modified Copernicus Sentinel data (2022) and OpenStreetMap(2020).
Map produced by the National Space Research and Development Agency
NEMA reported hundreds of homes were destroyed in Agatu Local Government Area (LGA) of Benue State, where nearly 3,000 residents set up temporary camps along roadsides and on higher ground.
As of 28 September, around 3,000 people were affected or displaced and one person had died in floods in Lavun LGA close to the Kaduna River in Niger State.
On 01 October NEMA said over 650,000 people in six local government areas (LGAs) of Anambra State were affected or displaced by flooding along the Niger river and tributaries. Affected LGAs included Ogbaru, Anambra West, Anambra East, Awka North, Ayamelum and Anambra North where one person died.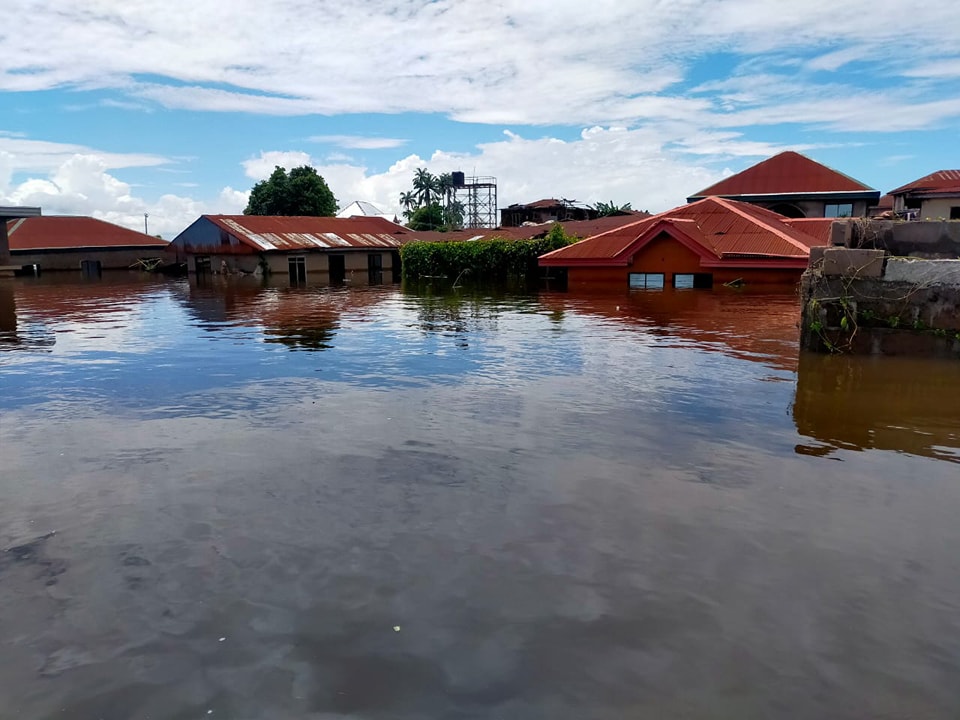 GLOFAS Image 3 Floods in Anambra State Nigeria September 2022 - NEMA
Also on 01 October, the governor of Kogi State, Yahaya Bello, confirmed that flooding affected 9 LGAs close to the Niger and Benue rivers, namely, Lokoja, Kogi-Koto, Ajaokuta, Ofu, Igalamela-Odolu, Bassa, Idah, Ibaji and Omala.
"We have a humanitarian tragedy on our hands," the governor said.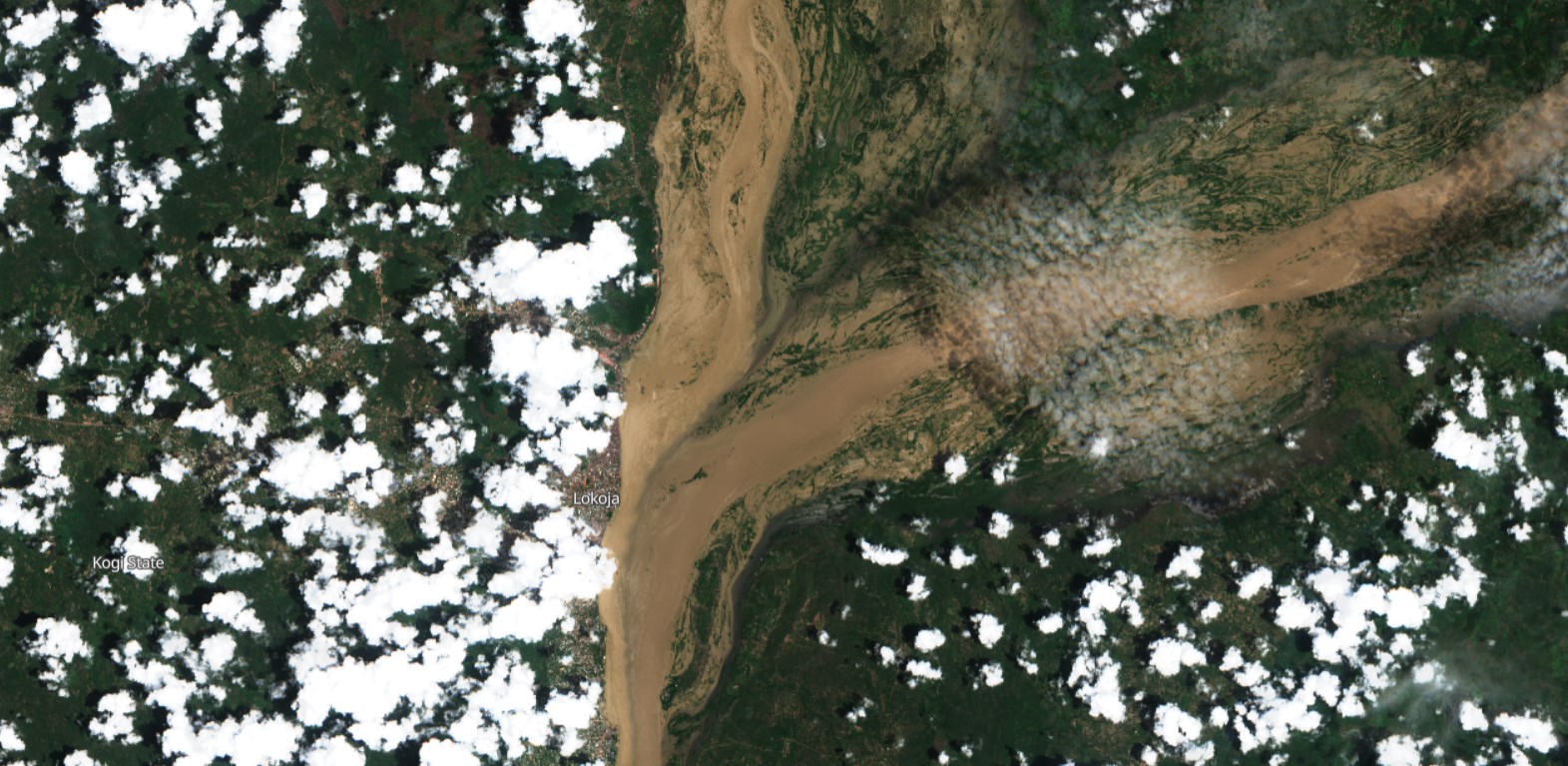 GLOFAS Image 4 Floods in Lokoja, state capital of Kogi, Nigeria, late September 2022. Image acquired by Copernicus Sentinel satellite.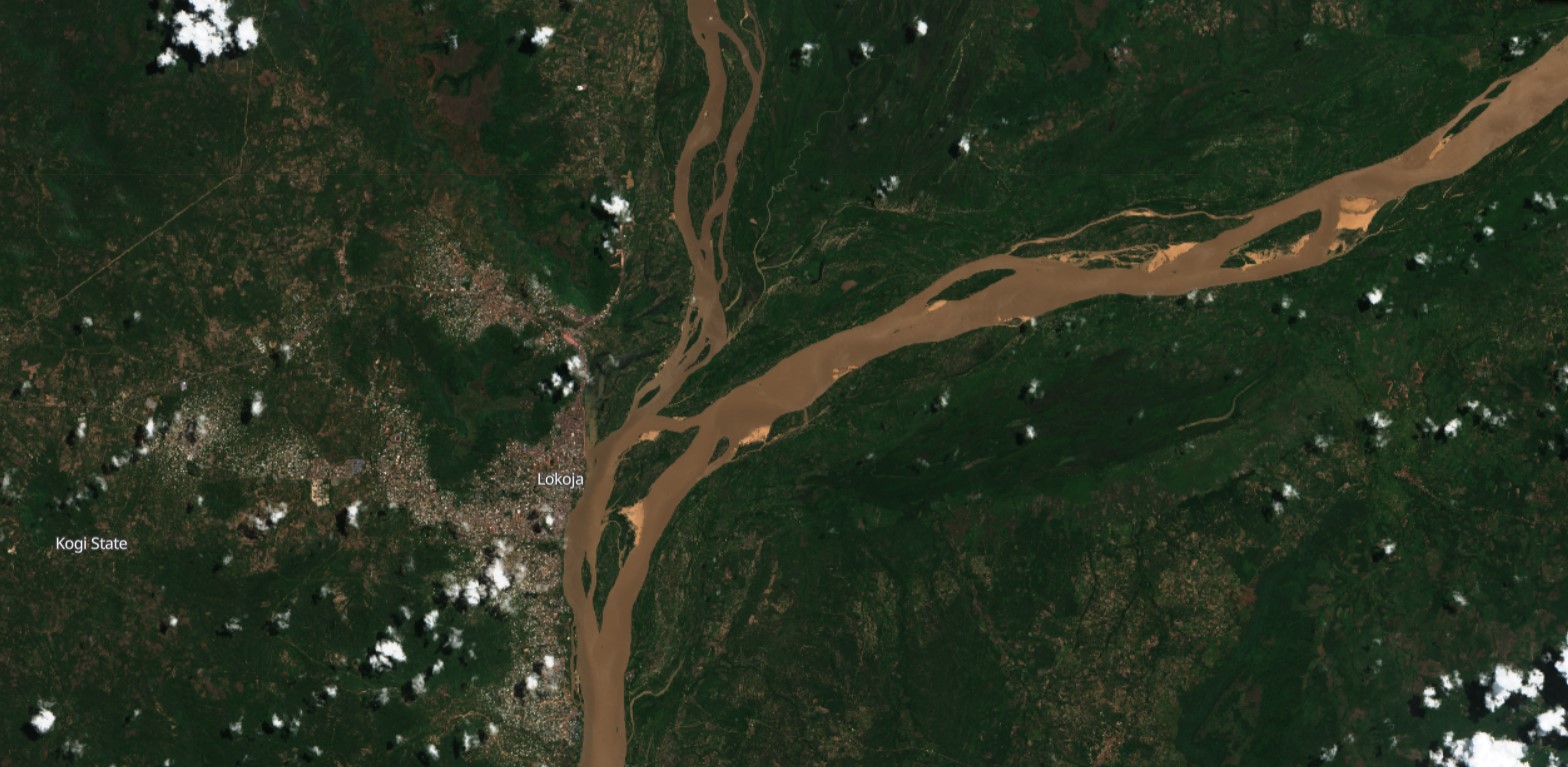 GLOFAS Image 5 Before the floods. Lokoja in Kogi State, Nigeria, July 2022. Image acquired by Copernicus Sentinel satellite.
By Karen O'Regan Oct. 17, 2022, 9:58 a.m.